Kitchen Cabinet Fittings With Universal Design in Mind
These ingenious cabinet accessories have a lot on their plate, making accessing dishes, food items and cooking tools easier for all.
Beautiful kitchens abound — but beauty, as they say, is only skin deep. If the bones of the kitchen do not function properly, the time spent there will soon become annoying. Beautiful is great, but beautiful and functional are paramount in my book.A few organizational cabinet appointments can make everyone's lives easier through accessibility. Any of these cabinet accessories will make work seem less like a chore and allow people of any age and mobility the dignity of maintaining their autonomy while doing what they love to do — cook!
If you have the opportunity to remodel your kitchen or are lucky enough to be plannning a new kitchen from scratch, opt for as many base cabinets with drawers instead of doors as possible. Drawers are much easier to access and bring the contents to you, rather than forcing you to bend down and reach into a dark cabinet.
Organizational accessories such as this pegboard for dishes allow the heavier items to be stored within reach and the flexibility of rearranging items to suit your needs and dishes. Storing your dishes in base cabinets allows even the little ones to get in on the action of setting the table. It also eliminates the sometimes dangerous reach into upper cabinets for a stack of plates.
Make sure you select heavy-duty rollers or glides to accommodate the extra weight of the dishes.
Traditional rollout shelves come in handy when you prefer the aesthetics of doors over drawers. You must take care, however, to fully open the door before pulling out the shelves to minimize the inadvertent scraping of the inside of the door. The shelves come in a wide variety of traditional and other materials, such as this wood dovetail version. A base cabinet with a standard door can usually accomodate three shelves, depending on what you need to store.
The racks shown here are chrome plated, but some also come with clear plastic sides, or plastic or metal side rails, which are sometimes called gallery rails.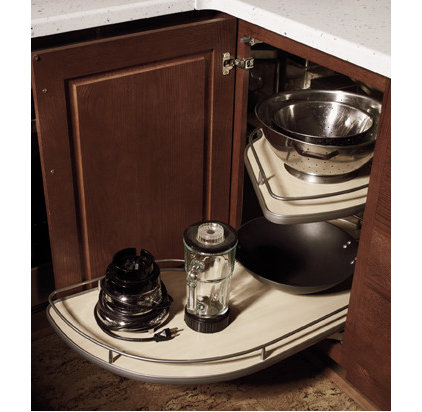 Corner cabinets, particularly blind corner cabinets (cabinets that extend either right or left into the corner and have only one face door), used to present design challenges and wasted valuable space. But not anymore — new corner storage systems maximize accessibility and organization. This sytem has trays with nonslip mats to keep items from falling off or slipping about. Wire rack systems are also available.
Here, a wire rack lazy Susan optimizes space in a traditional corner cabinet, allowing the user to rotate the shelves to bring items to the front of the cabinet.
Drawers like these are another option for corners. However, they require some adjusment on how to pull them out, as they usually have pulls on either side of the drawer for aesthetics.